Empower teachers to raise primary PE standards and activity levels in a way that lasts.
A primary PE mentoring programme designed by teachers for teachers that equips learners with the tools and expertise to increase the quality of PE.
A proven CPD solution to increase the confidence of teachers and the quality of PE.
More than a mere 1-day training course or standalone activity, PECS takes a holistic approach to embed PE across your entire school.
Expert mentors provide ongoing support that's tailored to teachers. Mentor and teacher work together to identify areas for development and create a personalised training programme that includes collaborative teacher activity, formative planning and assessment, and expert primary school PE input. Teachers get professional development, mentoring, training and resources to help them teach PE and sport more effectively to all pupils.
The programme is underpinned by robust data and constantly evolving to meet the demands of the UK's primary schools. It addresses DfE Professional Development Standards and is the only programme of its kind recognised by the Association for Physical Education Professional Development Board.

An effective and sustainable use of your PE and sport premium.
As a programme that's designed to upskill teachers and build confidence to improve and evaluate pupil outcomes, PECS meets the DfE's guidance for effective premium spending.
Improves key areas to plan, deliver and assess high-quality PE and sport.
PECS has a proven record of helping schools improve: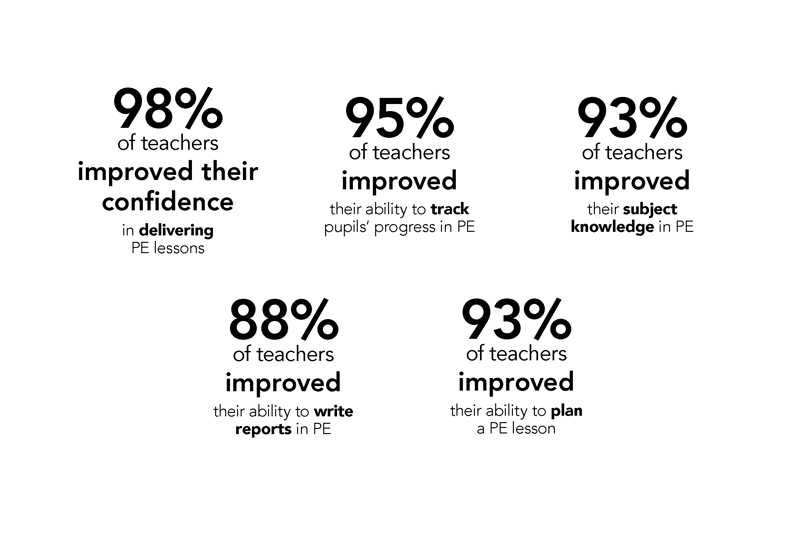 "PECS has helped both teachers to develop their understanding of the PE curriculum and improved key skills such as breaking down sports and skills to teach the age and abilities of children they have in their class. It also enabled them to be more creative in their approach and improve behaviour management during PE lessons."
"At first I was a little nervous, however, it soon became clear that I could move at a pace comfortable and useful to me, getting as much or as little support as I needed.I found the lesson plans really easy to follow and adapt and I soon grew in confidence.The lessons progress clearly and the children are engaged and learning safely. The steps for my development were clear, manageable and I feel that I am able to manage the pace of PE lessons better now as a result."
How does PECS address the DfE Standards?
Professional development should have a focus on improving and evaluating pupil outcomes.
Pre programme delivery assessment to match needs, experience and knowledge to PECS activity and delivery
Reflective practice model evaluates impact on pupil outcomes
Differentiate lessons to help pupils achieve their potential and make rapid progress
Professional development should be underpinned by robust evidence and expertise.
Pre and post evaluation
Impact data reports
Curriculum progress mapping
Quality assurance through regular observations and training
Evidence reported on portal
Each member of staff has their own personal development folder to help develop, support, reflect and evidence progress
Professional development should include collaboration and expert challenge.
Mentors provide ongoing support, modelling and challenge
Regular feedback to help create, achieve and reflect on goals
Professional development programmes should be sustained over time.
Delivered on site in your lesson with your pupils
Mentoring relationship pre, during and post lesson delivery
Ongoing support for all teachers taking part
Mentor can help engage children in sustained physical activity opportunities e.g. Extra curricular or leadership
If you're interested to know more about PE Curriculum Support complete the form below and one of our team will be in touch.
Looking for
something else?