Aspire Active Camps - Wombourne
Winter Active Camps



Tuesday 2nd January - Friday 5th January
8am - 4pm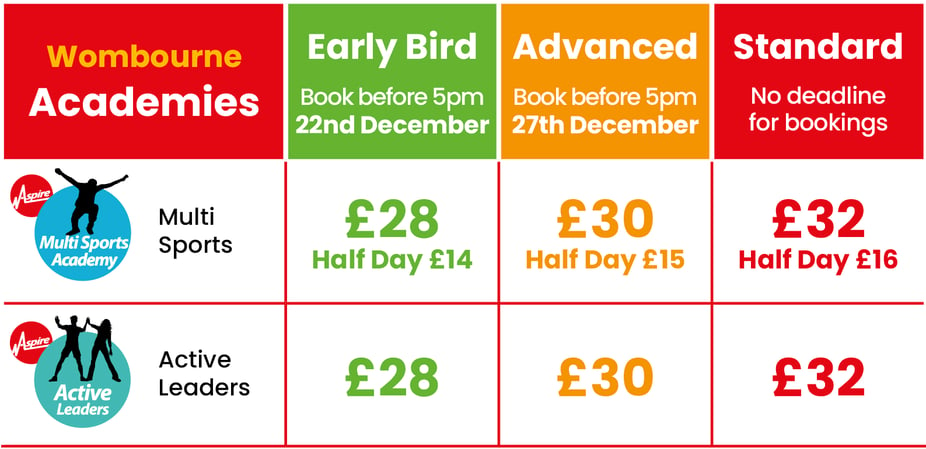 What ages can attend?
Multi Sports Academy: Ages 4 - 11 (4 years olds for half day only)
Active Leaders: Ages 12-14
Multi Sports timetables coming soon...
Active Camp Details
Wombourne
Wombourne Leisure Centre
Ounsdale Road
Wolverhampton
WV5 8BJ
Facilities: Sports hall, playing fields, changing facilities, toilets
01902 213 298
Ofsted Registration No: EY2518650

Registration is located in the main sports hall between 8.00am and 9.30am, which is accessed off Ounsdale Road in the main car park. During this time your child can participate in various activities. All academy activities start at 9.30am.
Sign out is also located in the sports hall at 12.30pm and 4.00pm and after 4.15pm for those doing Xtra Time.
Camp Coordinator contact
07376 016 617
This number will only be available for the duration of the Active Camp that your child is attending. For any other queries please call 01902 213 298
Please see our parents guide for more details.
"Both my boys love camp and it's reassuring to know there is somewhere they can go, with friends, and have a great day"
"Everything was brilliant from start to finish. My son really enjoyed it. The staff were really good."
"My child has been coming for over 5 years and just loves it! Even though she is now 11 she still enjoys it"